Main information:
Information for visitors
Further sights
Further properties administered by the Bavarian Palace Administration in the Chiemsee area are Frauenchiemsee Monastery on Frauenchiemsee island and Julius Exter's House at Übersee / Feldwies: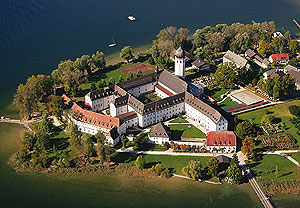 This convent, founded in 782, is one of the oldest in Germany. After secularization in 1803, the abbey was founded a second time by King Ludwig I of Bavaria in 1837.
The Carolingian gateway hall with its museum of early sacred art in Bavaria and the minster with its separate tower are the main attractions of the island. The church, which has relicts from the Carolingian period, Romanesque frescoes and a fully preserved interior from many subsequent artistic periods is a record of the convent's continuous cultural development. It was in the nearby "Zur Linde" restaurant that the tradition of landscape painting on the Chiemsee began in the 19th century.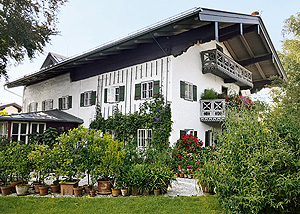 Julius Exter (1863-1939) was one of the founders of the "Munich Secession", an association of avant-garde artists. In 1902 he acquired and converted the historic "Stricker" property at Übersee / Feldwies, and in 1917 settled here permanently. It was here that Exter developed the unmistakable style of his later work: the colourful pictures, among them many landscape paintings, illustrate his progression from symbolism and neoimpressionism to expressionism. The study and atelier of this artist today house a permanent exhibition of his works.
Julius Exter Art Gallery at the Augustinian Monastery (Old Palace)
---
Discover the castles of King Ludwig II of Bavaria