Main information:
General information for visitors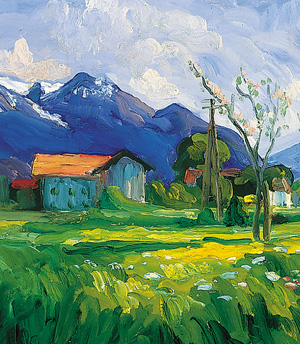 Information for the disabled
The paths to the various buildings on the island are sign-posted. The buildings are accessible for wheelchair users. Tickets can be purchased in the visitor centre or in the Royal Palace.
Toilets for the disabled are available in the visitor centre, the Schlosshotel, the Museum in the Augustinian Monastery, and the Royal Palace.
There are lifts in the Museum in the Augustinian Monastery and the Royal Palace. Besides there are some wheelchairs available – please inquire at the cash-desk.
We ask large groups to register in advance.
---
Carriage rides on the Herreninsel (only in summer)
The carriages normally run from mid-April until the end of October (depending on the seasonal weather) between the boat pier and the Royal Palace (shuttle service).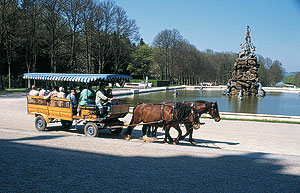 The trip takes around 15 minutes (one way). Please note that there is only a limited number of carriages.
If you have any questions concerning the carriage rides please contact us.
The price for a one-way trip is 3.50 euros for adults and 1 euro for children and young people (5 to 14 years).
---
Download of information
Our leaflets about the sights on Herrenchiemsee Island can be downloaded as PDF files in several languages.
---
General information for visitors
Bulky items like umbrellas or large prams may not be taken into the palace. There is a limited number of lockers available, but no liability can be accepted for items deposited there. For the duration of the guided tour we can lend out free buggies and wheelchairs (limited number).
Photography and smoking as well as pets are not allowed in any of the buildings. Dogs must be kept on leads on the island.
Bicycles, scooters and roller blades are not allowed on the island for safety reasons. If you have come with a bicycle, please leave it behind the visitor centre at the pier (and don't take it to the palace).
| top |